Emma Kalogeropoulos was born in New Zealand, although comes from many different palces around the world.
She is not only a Kiwi, but part South African, and Greek!
here is a link about New Zealand, where Emma was born, and where she lives: New Zealand
EMMA KALOGEROPOULOS
I live in the best country in the world, and go to an amazing school, carmel college. I live with my parents, Stathy and Debbie Kalogeropoulos, and my brother, Liam Kalogeropoulos. we are all catholic, although are not that great at attending church. I love animals, and my family is the most important thing in the world.

Here is some information about Emma's family, her Mother, Father and Grandmother. She is very grestful to have these people in her life.
DEBBIE KALOGEROPOULOS (MOTHER):
I was born in New Zealand, in the North Shore hospital (just up the road from Carmel) in Auckland. My ancestors came to New Zealand by ship. I lived with my Mum and Dad, sisters Linda and Julie, and brother Richard. We had a few different houses during my childhood. When I was a baby we lived in Auckland in a house my Mum always referred to as 'The Cottage', then we moved to a town on the South East of the north island called Porangahau where my Dad was the headmaster of the Primary School. Porangahau is a seaside town with a small population. When I was four, Dad got a new job as school principal of Hunterville School. So we moved from Porangahau to Hunterville. Hunterville is another small town. It is inland, still in the south of the north island but more toward the eastern side. I have lots of happy childhood memories there. It was where I started school, made friends and lived there until I was almost ten. Then we moved up to Auckland where Dad had new school principal roles. We had a house in Mairangi Bay that my parents had bought from my Mums parents.
RELIGION
I was brought up in the Catholic religion. My mother is Catholic, and brought my siblings and I up with the religion. We attended church regularly. Religion has had a strong impact on my life. My mother is a devoted Catholic, my father does not follow a religion, but never interfered with her practice. I think many of the morals and ideals I was taught in religion are important. I also think seeing the world of my Dad, outside of Catholicism made me consider and think about religion and its value and perspectives more than I would have if he had also been religious.
HER GRANDPARENTS
I called my Dad's parents Nana and Poppa. They lived next door to Nanny (Nanna's Mum) who lived until she was 104 year old. We would visit Nanna, Poppa and Nanny every year over Christmas. I used to play cards a lot with Nanny. She was a great cook and gardener, and sprightly and clever. Poppa was sweet, he always seemed older and slower than Nanna. He gardened too, we often had lovely new potatoes from Poppas vegetable garden. He played golf, and later lawn bowls. He watched horse races, and read Dick Francis novels. He had served in WW2 though he didn't talk about his time in the war much, even to my Dad. Nana and Poppa always put out little bowls of chippies and cheezels and nuts when we came to visit, and had soft drinks for us kids to drink. My Mum's mother I called Nan. I didn't get to know Grandad (her husband) as he had passed away when Mum and Dads eldest child, my sister Linda, was a baby. Nan was warm and funny and affectionate. When we moved to Mairangi Bay we could pop over to her unit by walking halfway down our driveway and stepping through a gap between her fence and some agapanthus! The Catholic church was important to her, and she attended regularly. She played lawn bowls at Mairangi Bay, on occasion she would catch the bus into town (Auckland city), she would always get dressed up to do this. It was a treat to go with her, and I'd get dressed up too. It was usually to a cinema to watch a movie. She lived alone, and usually had the television on for company, she especially enjoyed watching University Challenge. Nan had been the youngest of a large family, and had had five children herself. Her husband Noel had also come from a large family (he had had 9 siblings). She always had interesting real people stories to tell. She was also wonderful at making up stories. If you stayed at Nan's you would snuggle into bed with her to hear stories, sometimes at night before going to sleep, but more often in the mornings.
MODERN DAY COMPARISON
Mobile phones and devices we have now are a much bigger part of today's everyday life. I watched TV and played computer games, but nothing like to the extent most children do now. I also think at times I had more freedom. When we lived in Huntersville I was fairly free to go where I wanted. I could be out for long periods of time, and don't recall having to check in. At primary school in Auckland I would be the last to leave the house in the morning before I walked myself to school. In the afternoon I'd walk home, and let myself in, the first home. I'd walk to tennis, catch buses, or walk to meet up with friends on a weekend. We didn't eat out as often as we do now. There weren't as many cafes around for breakfasts or lunches or pop in for muffins.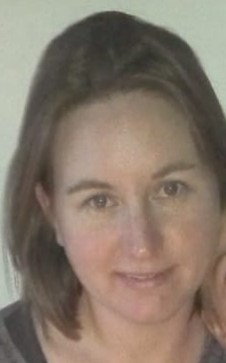 Debbie Kalogeropoulos, Emma's Mum.
STATHY KALOGEROPOULOS (FATHER)
I was born in Port Elizabeth in South Africa, AND I arrived in NZ (to live) in 2004. growing up, I had two other siblings, Jason and Michel. There were 5 of us living in the house. My religion is Catholic, four out of the five of us were Catholic. Religion has given me the moral standing that has turned me into the person I am today. My hobbies include fishing and cricket (basically all sports) and I used to play the viola in the school orchestra. My earliest memory is Seeing our dog and her puppies in the garage in our very first house.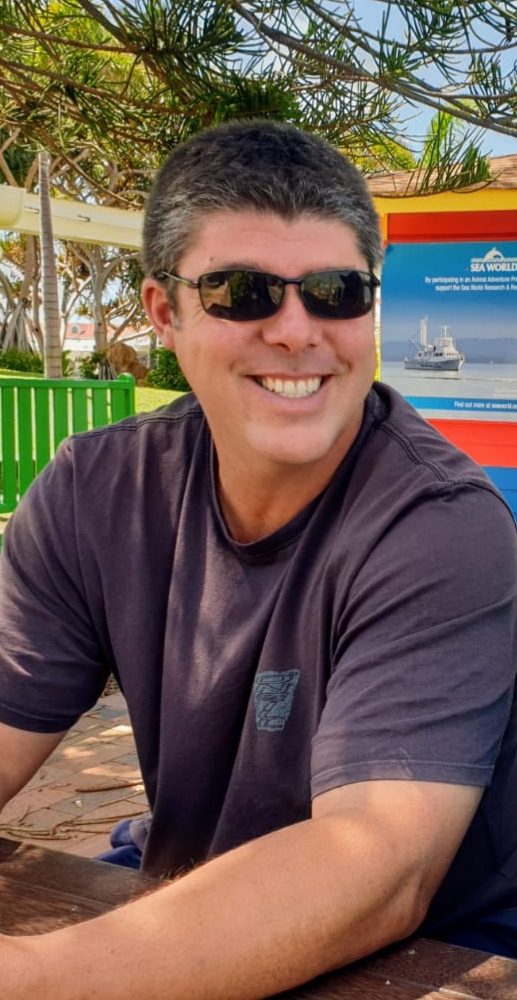 Stathy Kalogeropoulos, Emma's Dad.
DIAN ORMISTON: (Emma's grandmother and Debbie's mother. grandchildren call her Diamond)
I was brought up in a strongly religious environment with both my parents involved in Church social and community events. My Dad believed that it was important to join as a contributing member in a broader society as well, to prevent being in a narrow religious cult which was a possibility for some in pre Vatican two days. My brothers and sister have all kept up religious practice and children have been brought up in the Catholic faith although only one of us married a Catholic partner. Religion has had a major impact on my life, it gives me a purpose for all aspects of my life and a feeling of gratitude for all the gifts of family and friendly relationships that I have shared. Hobbies have developed over different phases of my life. Netball and tennis, swimming, reading always, photography, artworks, sewing clothes for children and myself, enjoying movies and concerts, tv and travelling to many countries to enjoy different societies and foods. Something missing today is the comic book. We loved those, especially the Walt Disney ones. Lollies and comics were pocket money investments. In the 1940's and 50's news was by radio, newspapers and newsreels at the movies. There were lots of newspapers and bulletins, occasionally there would be a relative or friend with overseas experiences to share. I have early memories of playing with my little brother, loving my first teacher, pushing my baby sister in a pram to settle her down, travelling to our Bach most weekends in a long line of cars before the Harbour Bridge was built, calf club, flower and baking competitions at school, visiting cousins and playing together. Many more of course. We lived some distance from grandparents and saw them only on occasions, such as Christmas Day or an occasional school holiday period. My Mum's dad died when she was a child,and I was only little when my living grandfather and grandmother died. I saw Dad's Mother seldom, though she wrote newsy letters from time to time. However, all family members were often discussed and we felt connected to our parents' backgrounds and family events. There was always a sense of family, and happily, this has remained so with our family members today. Covid 19 has brought back memories of a quieter environment, where people stayed home more, had very few eating out opportunities apart from fish and chips. Food was homemade and simple, with little influence of overseas influence such as pizzas, MacDs and KFC. Today we have an endless variety of flavours and foods from all parts of the world. The same can be said for sports, career opportunities especially for women, and lifestyles in which it is hard to find space for family meals in the working week. I was too young to remember much about the polio epidemic and how it affected the economy, but our recent lockdown shows how marvellous IT developments help us to cope when society is forced to shut down.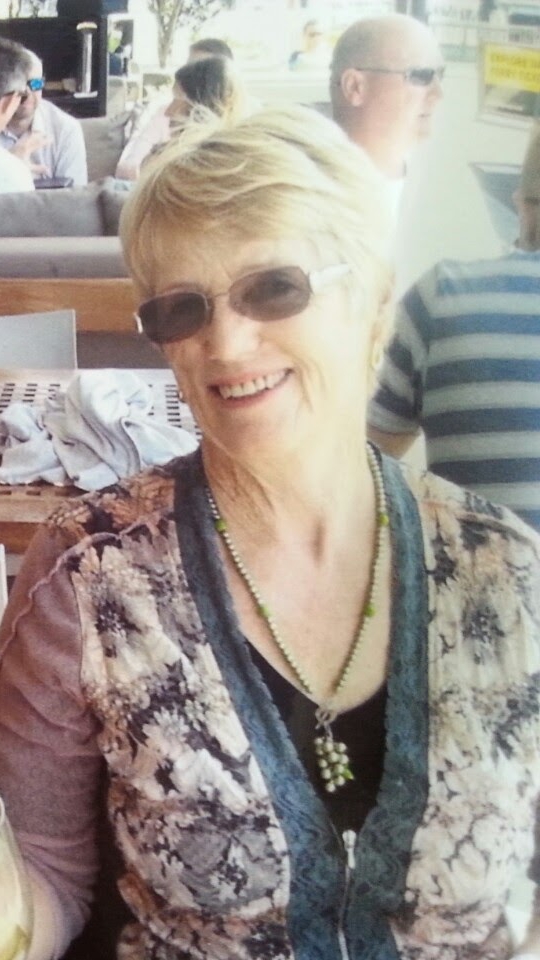 Dian Ormiston, Emma's Grandmother.